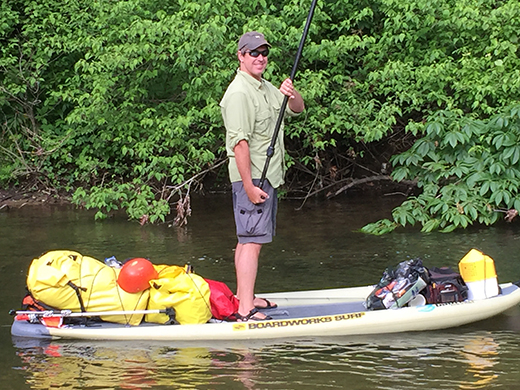 As an athlete in his mid-50s who's still pushing boundaries, I believe peak performance comes from extensive cross-training regiments.
Before my 80-mile Lake Michigan swim, I was never stronger nor more flexible, and my training was unorthodox. I have discovered that cross training is essential for the over-40 athlete. Shoulders cannot handle the repetition of the younger athlete swimming thousands of yards a day. Instead, I swam 2-3 days on weekdays for 2 hours straight, working on effortless technique, what I call my "forever stroke." I also run 1-2 times per week averaging 6-10 miles for aerobic conditioning. I work out on my Vasa Trainer swimming machine.
Paddle boarding upstream is the best cross training exercise and develops powerful back and abdominal muscles. I will often paddle upstream from Hominy Creek to the Biltmore Estate.
Another essential part of training is Yoga, which I practice 3-5 times a week at Asheville Community Yoga. Stretching and core stability provide the platform from which to pull harder in swimming or paddle sports or run harder and longer.
The Swimming Stroke
This is a core driven body rotation with long front quadrant extension and stretch followed by a powerful catch and thoracic/abdominal contraction. The stretch in front is very important in ultra long distances, as it is like a little yoga move built into each stroke, preventing cramping and muscle fatigue while allowing the full advantage of muscle elasticity and rubber-band-like recoil.
To maximize balance, keep the weight forward in a catch up stroke fashion. To decrease stress on my neck, I allow my head to follow my core rotation, essentially eliminating neck rotation. When my forearms get tight I focus on the middle quadrant to unload my forearms. I also vary the depth of my "catch" to avoid forearm tightness. I use a very low amplitude relaxed ankle driven 6 beat kick. When I get chilled in cold open water, I find picking up the kick a touch will warm the water layer in my Farmer John style wet suit.
Pacing
I can swim at a 1:25 pace in a 25 yd pool with open turns and 1:20 pace with flip turns. I try and avoid flip turns when training ultra long distance because it throws off the calm breathing I am trying to perfect. When pulling a paddle board my speed drops to about a 1:45 pace/100 yds.
Once a week I try and do a very long swim in a lake. Sometimes I will swim 8-10 miles on Lake Fontana on Saturday, camp on an island and swim back on Sunday.